Piero Umiliani
(born July 17, 1926 in Florence, Italy; died February 14, 2001 in Rome) was an Italian composer of film scores, most famous for his song "Mah Nà Mah Nà" of 1968, that was originally used for a Mondo documentary about Sweden (Svezia, Inferno e Paradiso) and became world-famous in 1977 when performed for The Muppet Show. The song was also an anthem of the Benny Hill show.
Like many of his Italian colleagues at that time, he composed the scores for many exploitation films in the 1960s and 1970s, covering genres such as spaghetti western, Eurospy, Giallo, and soft sex films. Although not as widely regarded as, for example, Ennio Morricone or Riz Ortolani, he helped form the style of the typical European '60s/'70s jazz-influenced film soundtrack that later experienced a revival in films like Kill Bill and Ocean's Twelve.
Piero Umiliani (Zalla) - Paessagi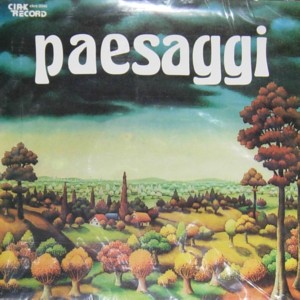 Review (Waxidermy)
Paesaggi in Italian means 'landscapes' (I checked on Alta Vista Babel Fish translator). With a dull cover and very non descript name, I'm not sure what I was thinking in shelling out almost $80 for this record on Eb*y. Boy was I pleasantly surprised. Seems as if (almost) everything Umiliani touched turned to gold. His records contain an undertone of depth (and also sublimity) not usually found on library/lounge record's grooves.

This record is a tribute to various countries music, but it all sounds Italian to me. My favorite tracks are Prime Nebbie (First Fogs ((babel fish again)). Swirling organ and subtle bossa/lounge groove on this one. Also the track Risaie is a nice bit of exotica tinged flute with funky backbeat. Apparently there is a I Marc 4 connection here, and this song is sort of a give away to their sound (think Beat Generation). Another Marc 4 sounding track is Tanto Lontano, with psychedelic vibrations; reminds me of the song 'Metropolis' off the Echoing America library on Sermi (also another Marc 4 backed album).
This is one of the lesser known Umiliani records but well worth seeking.
Download from rapidshare.com
Piero Umiliani (Maggi) - Tra Scienza e Fantascienza
Side A:
1.Cowboy spaziale
2.Officina stellare
3.Danza galattica
4.Saltarello marziano
5.Jingle n° 1
6.Automa
7.Tarantellaccia
8.Bric Brac
Side B:
1.Soundmarker blues
2.Gadget
3.Soft key
4.Happy accompaniment
5.Futuristic jam
6.Futuristic jam
7.Killer robot
Download from Rapidshare.com